An Inside Look at a Unique Womens Motorcycle Club in Williamsburg, Brooklyn, NYC
Womens Motorcycle Club -the "Miss-Fires"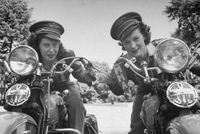 ---
The "Miss-Fires" as they are known, is a 31 member-strong, women's motorcycle club located in Williamsburg, Brooklyn. Formed about 5 months ago, their club is both unique and uncommon. What makes this club so unique however, is not only that it is a womens motorcycle club, which isn't all too common when it comes to motorcycle clubs, but that their club also operates as a school of sorts. They meet a few times a week at a place called, Motorgrrl garage, and have what is known as "shop talk"-where they work on mostly vintage motorcycles, including Moto Guzzi's, and vintage Honda bikes such as Honda CB models. The bikes they work on are their own and they learn and teach each other while working on each other's bikes. They do motorcycle maintenance and even engine rebuilds.
Even though it is a womens motorcycle club, they do welcome anyone to join, even those that don't have a motorcycle yet or even a license.
Most importantly however, they love to ride, which is reserved for the weekends. Being located in Brooklyn, NY, you might catch a glimpse of them riding in neighborhoods such as greenpoint, park slope, and red hook. Some members have even raced in professional events such as the American Motorcyclist Association's Vintage Dirt Track National Championship.
Keep up the good work ladies, you rock!
Recent Posts
Harley Davidson has A LOT of models, acronyms, and different style bikes which can lead to plenty of

Since 2018, Jack Daniel's and Indian Motorcycle have developed a successful partnership together. Wi